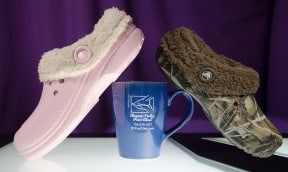 Do those eye-catching shoes have a place in good health?
Crocs: Healthy Shoes or Just Comfy? Crocs — those clog-like shoes in bright colors — might not match everyone's idea of fashion, but fans swear by their comfort. And Croc lovers say they bring health benefits to the two extremities that carry us all to the places we go.
Are Crocs really good for our feet? WebMD got some feedback from doctors, consumers, and the shoe's creators.
A History of the Croc
Born in 2002, the shoe was initially intended as footwear for boating, with its nonslip tread and waterproof tendencies.
"The product was originally produced in Canada in clog-form," says co-founder Lyndon V. Hanson, III, vice president of Crocs. "We added a strap for utility, and gave it some flair."
Crocs are certified by the U.S. Ergonomics Council and the American Podiatric Medical Association. Hanson says that what Crocs lack in aesthetic value, they make up in therapeutic benefits. The company created what it calls an Rx line of models specifically with healthy feet in mind: Croc Relief, Croc Cloud, and Croc Silver Cloud.
"These shoes were designed specifically to eliminate plantar pain and achy feet," says Hanson. "They also help people with injured feet, bunions, and diabetes. You've got a lot of inner support, heel cups and massaging heel nubs, and arch support. They're ideal for people with foot problems."
Crocs in the Clinic
Some doctors are even recommending them to patients with foot problems.
"These shoes are especially light," says Harold Glickman, DPM, former president of the American Podiatric Medical Association (APMA). "They have huge room in the toe that affords the front part of the foot lots of room, especially for people with bone deformities like bunions and hammer toe. With the Rx Crocs, they're lined with antibacterial material that will prevent fungal and bacterial infections."
Crocs, Great for your legs. Available at the Advanced Vein Center
Call today for an appointment 724-987-3220 or the Beaver Valley Foot Clinic at 878-313-3338