Leg Rejuvenation Program
Pittsburgh Area's Most Comprehensive Leg Vein Program
Developed & Operated By Board Certified Physicians
Safe and Painless Outpatient Leg Vein Procedures
Vein Procedures Covered By Most Insurance
In Office Vein Procedure – Walk Out Immediately
Before and After
Modern medical advances now provide us with a variety of effective non-invasive treatments and therapies for all kinds of vein diseases—including spider veins (also called Telangiectasias). The more practitioners learn, the better they can provide for the needs of their patients. At The Advanced Vein Center we pride ourselves in being on the frontline of innovative technologies, comprehensive vein care and successful vein treatment.
Before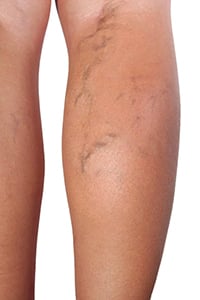 After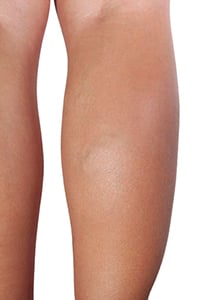 Cutting-edge Treatments for Spider Veins (Without the Cutting)
In some cases, a few simple lifestyle changes, for example, a new walking regime or weight loss, may be all you need to reduce the prominence of spider veins. In others, our vein specialists might suggest one of many safe and effective medical procedures. Because of our vast experience and access to the newest generation of medical technologies, we have the most practical procedure for your individual case. The goal of spider vein treatment is to cause them to collapse, fade and be naturally reabsorbed by the body. The blood flow will then naturally reroute to the surrounding healthy veins. Usually after spider vein treatment normal activities can be resumed immediately. Your vein specialist will develop a personalized treatment plan for you. If a laser treatment is chosen to be the best option for you, we have several different specialty lasers that can optimally pinpoint and target spider veins based on your specific situation. Invasive surgery is only performed as a last resort. 
Non-invasive Laser Treatment
For many patients, laser light therapy is the most effective option for treating spider veins. A custom modulated laser or a series of intense light pulses are used to heat and destroy these bothersome veins. These fast treatments are office based, non-invasive and cause little to no downtime.
Lasers can be used to treat spider veins on the face, nose, chest and elsewhere on the body.
Side effects are rare, but they may include some temporary swelling, discoloration and/or blistering.
What is a Spider Vein?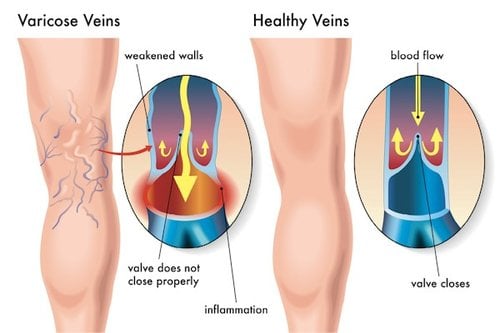 Spider veins are medium size blood vessels that are dilated and close to the skin surface. Spider veins are smaller cousins of varicose veins, and are often closer to the surface of the skin and appear darker and more noticeable than varicose veins. These fine networks of visible blood vessels are found just beneath the skin and can appear blue, purple or red. Their ability to branch gives them a web-like appearance.
Spider veins are filled with deoxygenated blood which can give them a purple or blue appearance. They can occur as a singular cluster, or can cover a large area. They are most common on the legs; but can also be found around the nose and elsewhere on the face, chest and ankles. Spider veins develop when their valves are not functioning normally and cause blood to not properly flow to the heart. These malfunctioning veins lead to a backflow, slowing or pooling of blood, which can lead to other venous conditions including varicose veins.
Spider Vein Symptoms
Charley horses or cramping
Arch or calf night cramps
Minor aching especially during the menstrual periods
Tiredness of the legs
Itchiness, burning, tingling or numbness
Leg pain
Cosmetic symptoms including visible vein lines or vein spider webs
Swelling
Tenderness or Redness
Factors that can contribute to Spider Veins
Sitting or standing for long periods of time
Pregnancy or multiple pregnancies
Being overweight (obesity)
Aging
Sedentary lifestyle
Smoking
Genetics (Family History)
Hormonal changes
Extensive sun exposure
Damage or physical injury to the area
Women are more likely to get spider veins than men