Hand Rejuvenation
You don't have to hide your hands anymore. Let us turn back the hands of time by reducing the appearance of protruding veins. We now offer an innovative in-office procedure to eliminate unwanted hand veins. Many people develop large bulging veins on the backs of their hands as they get older. Generally, this is due to their skin relaxing and thinning with age. This causes the veins to become more noticeable and appear enlarged. Traditional treatments offered are sclerotherapy and mini phlebectomy.
You can stop hiding your hands because of those large bulging veins and spots. You can even wear jewelry again because at Advanced Vein Center we have the solution for you.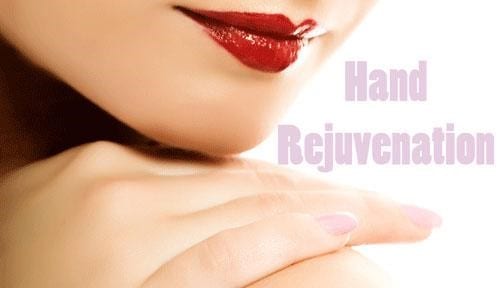 Some people may have nice hands however, their veins and tendons can be very prominent and people may have sun or age spots that can be unsightly. For these problems there are several treatments that can be performed to lessen or eliminate these unwanted features. Radiesse is one of these treatments we use to soften out the look of your hands. The Radiesse hand injection can be seen being performed in this video.
WHAT THE PROCEDURE LIKE?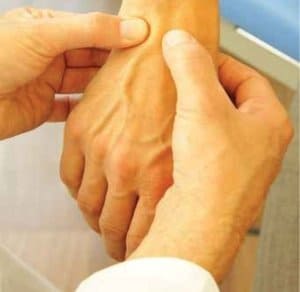 Our hand rejuvenation procedure is made of several different procedures in one – although all do not have to be performed at once. These procedures consist of dermal filler, microdermabrasion, IPL treatment, chemical peel and more.
Aging is a natural process that happens to all of us. Many people develop large bulging veins on the back of their hands as they age. This causes the veins to become more noticeable and appear enlarged. Generally, this is due to their skin relaxing and thinning with age. We now offer an innovative in-office procedure to eliminate unwanted hand veins.
TOP HAND REJUVENATION TREATMENTS:
Retin-A and Glycolic Acid Derivatives – Topical applications can repair sun damaged skin and cause age spots to fade. Moreover, they stimulate the production of collagen.
Microdermabrasion – Microdermabrasion is a superficial skin-polishing that improves the appearance of aging skin. The results are immediate. Maintenance treatments are required.
IPL Treatment – This treatment is very useful for clearing away sun damage, such as age spots, sun spots, liver spots, etc. Unsightly veins and dark age spots are gently removed through short bursts of laser light.
Dermal Fillers such as Juvéderm, Radiesse, Restylane and Sculptra Aesthetic – You may opt for the instant results of Radiesse, or choose the collagen stimulator Sculptra, which, over time, promotes your own collagen as the "filler." While all of the hyaluronic-acid (HA) based injectable fillers (e.g., Restylane, Juvéderm) are extremely well tolerated, their effects are too short-term on hands. Radiesse, and Sculptra Aesthetic, on the other hand, wear well in the hands, and provide a cushion replacement, maintaining a soft, natural feel. Results typically last 1 – 2 years. Touch-up treatments may be necessary to maintain desired correction.
Unfortunately, one of the most visible signs of aging are a person's hands. This holds true for Hollywood starlet and suburban soccer moms alike–bony, thin hands with unsightly veins and age spots are a dead giveaway that's difficult to hide. Fortunately, however, today this problem can be treated as effectively as many other signs of aging.
A large number of appearance conscious women (and men), are educating themselves about modern hand rejuvenation treatments can help them look years younger. Treatments range from chemical exfoliation (peels) to high end brightening creams all the way laser treatments. Together or separately, these can add volume to thinning hands, lighten age spots (or remove them completely!), and reduce or eliminate unwanted veins. In fact this type of therapy is gaining huge acceptance in the health & beauty industry, and they're definitely trending. Soon to be married women who want their hands to look just as great as their ring are a perfect example.
But first let's describe the problem before talking about the solution. As a person's hands age, the skin thins out and the underlying tissue loses volume. Especially on the back of the hands and the fingers, the hands take on a bony look as the knuckles protrude, and surface veins become much more visible. Even worse, age spots appear, and sun spots accumulate from too much fun in the sun. Taken as a package, it's a perfect recipe for looking older.
Does this sound like you? If the answer is yes then it's time to take action–this isn't a problem that will go away on its own. The first and most essential step is talking with a credentialed cosmetic surgeon or dermatologist with experience in hand rejuvenation. It's the only way to know where you stand, and what can be done. You'll discuss treatment options and move on from there. Here's a list of what higher end medical spas and surgery centers are using today.
Laser Hand Rejuvenation
Skin resurfacing lasers are without a doubt the cutting edge of this type of rejuvenation therapy because they target all of the common signs of aging (loss of volume, sun spots, age spots, and smaller veins). They first act to dramatically increase volume by increasing collagen and elastin production, which are the proteins which give skin volume, elasticity, and an overall youthful appearance. Put simply, when you were 25 your skin had a high collagen content and looked fantastic. They'll even out skin tone as well. Equally important is reducing unwanted pigment, in this case sun and age spots. Both contain melanin, which modern skin resurfacing lasers excel at treating effectively. Also note that even though the results aren't permanent, peak results typically last over a year, and the general appearance of the hands is improved for years to come in many cases.
Another incredibly popular treatment is IPL, which stands for Intense Pulsed Light and is the same energy used in photofacials. Used alone or in conjunction with other therapies, this can significantly tone down the brownish spots associated with sun and aging, and much like laser treatments they're great at evening out skin tone. IPL is also used alongside chemical exfoliation (peels) for enhanced results. Several treatments may be necessary, but the final look is often on par with resurfacing lasers. Once again, talk to the treating doctors, aestheticians, and laser technicians to find out what's best for your individual situation.
Injectables for Aging Hands
Now let's talk about the fillers, namely Juvaderm, Restalyne, and Radiesse, which not only work miracles on aging hands but have revolutionized the health and beauty industry as a whole. Also note that Radiesse is approved by the FDA (Food and Drug Administration) especially for hand rejuvenation. Much as they sound, fillers act as plumping agents and immediately improve volume. Another option is fat transfer: when fat is removed during a liposuction, living cells can be harvested and implanted into the breasts, buttocks, and in this case the hands. It's another great volume-restoring option. Both of these options can cause immediate, mild swelling, but this usually clears up in about one day. As with the above anti-aging treatments, results typically last over a year–with fat transfer usually lasting much longer. In terms of cost versus lasting power, both treatments are a good bet.
Which leaves us with unsightly veins. Fillers and fat transplant might hide the appearance of unwanted veins, but won't entirely solve the problem. In cases like this injections of specialized medication known as sclerotherapy cause veins to collapse in on themselves, and are eventually reabsorbed by the body. This is a permanent solution: a patient may develop new veins over time, but when an existing vein is treated it's as good as gone.
Topical Anti-Aging Products
These range from OTC (over the counter) to prescription products, and represent a less invasive way to rejuvenate the hands. At the top of the list is Retin-A, commonly used on the face for acne, and the bleaching agent hydroquinone. Retin-A is another treatment which ups collagen production, although not to the extent of laser resurfacing. Even so, it can drastically improve the volume and overall appearance of bony hands. This is a prescription medication. Hydroquinone is a potent lightening agent, which reduces–sometimes almost entirely, depending on severity–the appearance of sun spots and age spots.
Lumixyl is a newer product which is rapidly proving its effectiveness. It mimics various proteins in the skin known as peptides which are found in abundance in younger skin. It also produces very little irritation, which can occur with Retin-A and bleaching agents. Elure is another relative newcomer, which helps produce an enzyme which can eliminate the melanin (pigment) in sun and age spots. Both of these products are sold in doctors' offices which offer cosmetic treatments.
While all of the above treatments can work miracles, it always pays to prevent the signs of aging to begin with. A high quality, high SPF (Sun Protection Factor) sunscreen is essential not only for the hands but for the face as well. Since excessive sun exposure is a very preventable sign of aging, daily use is universally recommended.
Thin, bony, veiny hands are one of the most visible signs of aging, but they're not inevitable.
Want to get a good ballpark estimate of how old a person is? Look at their hands. Skin resurfacing lasers, photofacials, fillers like Juvederm, and topical agents can knock years of a person's face, and they're extremely effective on the hands as well. If you're sick of your wrinkled, bony hands then help is available in the same places you're going for facial treatments.
Especially in facilities that pride themselves on bringing up to date treatments to the table, several approaches are being used. Among them are skin resurfacing lasers, which have proven incredibly effective, chemical peels, and dermal plumping agents (fillers). Fat transfer, also known as fat grafting, is becoming popular as well: Living fat cells are harvested during liposuction, which are then introduced to the back of the hands. This is a fantastic option because it's semi-permanent–once fat cells are implanted, they typically last for many years
Quoting prominent dermatologist Dr. Giraldo, "rejuvenation of the hands isn't something entirely new. It's not a trend. Many of these treatments have been used on the face and other visible skin for some time. People usually don't associate them with hand treatments, yet." He goes on to say that her long time patients are thrilled that these treatments are finding their way into hand rejuvenation, and that patients are thrilled that there's a solution to a problem that they didn't think was treatable. "Overall, they're very happy with the results."
It's a fact that when both women and men age it's unfortunately not just the face that shows it but the hands as well. They lose volume as the fat beneath the skin is reduced, and a bony, veiny, "sunken" look inevitably results. Add to this thinning skin and protruding tendons and knuckles and the hands begin to look old. It's that simple. This is a process which progresses in stages.
0. Normal volume and no loss of sub-surface fat.
1. Some loss of underlying fat, with veins becoming more visible.
2. More advanced loss of fat and increasingly visible veins.
3. Very visible loss of fat deposits, and a further increase in the visibility of veins.
4. Advanced, severe loss of sub-surface fat with extremely visible veins.
(Note that this scale doesn't take into account unwanted pigments such as sun and age spots).
But this scale isn't set in stone. Here's a typical approach, one that uses several different therapies
Again, according to Dr. Giraldo "We always begin with the top layers of the skin and remove brown spots. This might be freckles, lentigo, or seborrheic keratosis (a.k.a skin barnacles). Effective combination treatments utilize IPL (Intense Pulsed Light), resurfacing lasers, and maybe chemical peels." He goes on to say that "generally we're using the same treatments we'd use on the face, at lower energies. Lasers are great, if the patient is a good candidate."
Lasers target pigment, in this case the melanin in age spots and similar blemishes, and they need good contrast to work effectively. What this means is that the best results will be on very light skinned patients with heavily pigmented spots. When it comes to darker skin patients typically aren't so lucky–lasers can't distinguish between the pigments in age or sun spots and the surrounding pigments in the skin. This leads to much more irritation, and can even cause more pigment to form as a response (post-inflammatory hyperpigmentation). However, according to Giraldo most patients don't need to worry. "Using the appropriate laser delivered by an experienced technician, these things are safe and very effective for nearly all patients."
Notice that she said nearly all patients. Those with darker complexions might consider a "pigment blind" procedure like radiofrequency ablation or microneedling, both of which greatly increase collagen, elastin, and other skin protein production while sidestepping a laser's need for high skin contrast altogether.
Not surprisingly, multi-therapy treatment programs can be expensive, but for many patients the results are worth the price. Such a combined approach can run between $1,500 all the way to $5,000, depending on what exactly is being done. Which isn't to say that there aren't lower price-point treatments available that are extremely effective for the right patient, namely peels, microderm and injections of specialized medicine (sclerotherapy) which causes highly visible veins to collapse and be reabsorbed.
Here's a more detailed breakdown of procedures by price. It's important to remember, however, that a more expensive option might not necessarily be better in your particular case. Talk with your provider before choosing.
1. Topicals Treatments
Cost: $5-$15 for high quality sunscreen, $25-$150 for anti-aging creams and serums.
On topicals, Dr. Giraldo states that "at the core of a good anti-aging regimen for the hands is a good retinoid (Retin-A). Also remember that anything that you're using on your face that works for you can also be used on the face." Yet all topical serums aren't equal. Look for products which contain ingredients which stimulate collagen production like the antioxidant Vitamin C or more exotic ingredients such as copper peptides. "They're expensive," continues Dr. Giraldo, but you don't need much and you only need to use them on the backs of the hands.
Sun protection for the hands is also key, just as it is with the face. SPF (Sun Protection Factor) 30 is recommended–even indoors. Skin damaging UV rays are just as damaging if they're coming through a window or a skylight, so it's best to apply sunscreen even if you're likely to be indoors. "You can't overdo it with sunscreen," explains Dr. Giraldo.
2. Microdermabrasion
Cost: Variable–$50-$200
Microderm is best known for facial exfoliation, but it works just as well on the hands, or other skin for that matter. There are "do it yourself" models available in stores and online, but these simply aren't as good as professional units. At best they'll help somewhat, at worst they'll do nothing except irritate the skin. Just as on any area of skin, microderm whisks away the uppermost dead, dull layers of skin. This is great in its own right, but microderm also triggers the body's healing response and causes more collagen to be produced, and it it this double action which makes microderm so effective and popular.
On the downside, microderm will always require follow up treatments, but then again so do most therapies. As such, it's often best to include microderm in a maintenance program. According to Dr. Shamban, "it's a fantastic treatment, but by the time my patients come to me for hand rejuvenation they usually need something more aggressive, like lasers or IPL at the very least, says Dr. Giraldo.
3. Peels
Cost: around $200
Often thought of as old-school, chemical peels are as popular today as they've ever been. This is because they excel at reducing the appearance of dark spots and pigmented lesions. Aestheticians usually apply several layers of an acid compound at various strengths depending on the patient, and typically 5 or 6 treatments are needed for optimal results. Even so, according to Dr. Giraldo, good results typically occur in 2 to 4 treatments.
And here's one more reason to wear sunscreen: after a peel, new skin is being revealed and new tissue is being produced, which makes hands even more sensitive to UV rays post-treatment. In some cases, patients who fail to wear proper sun protection after a peel have gone on to develop new sunspots in the weeks following treatment.
4. Anti-aging Gloves
Cost: around $50
These sets of gloves contain copper peptides, which are compounds closely linked to collagen production. This special type of protein stimulates cells known as fibroblasts to increase collagen production, and are a popular if expensive ingredient in many higher end serums. Copper peptides can also be found in Copper peptides, which can stimulate fibroblasts and collagen production when absorbed by the skin, are a common ingredient in many lotions and serums. They're also found in nearly all anti-aging gloves.
"The verdict is still out, but many patients swear by the gloves. And in reality anythng you do which helps to hydrate the skin will make it look better," says Dr. Giraldo.
5. Lasers
Cost: varies depending on the laser used. Estimated $175-500 per session.
Lasers are without question the "gold standard" treatment when it comes to hand rejuvenation, especially concerning sunspots, age spots, freckles, and other pigmented lesions, up to and including moles. Skin resurfacing lasers are some of the most studied therapies in the health and beauty sector, and many high quality studies consistently show this. Considerable evidence also backs IPL (Intense Pulsed Light), a laser-like therapy which evens skin tone while stimulating collagen synthesis. Some evidence even points to the activation of specific genes which stimulate collagen production under IPL treatment, but more studies are needed.
As with other approaches, a combined regimen is often most useful. Also it's worth noting that it isn't just about which laser is being used, but who is using it. For the best outcomes, experience counts. It's no mystery that highly experienced aestheticians and laser technicians achieve the best results, so it's important to research a facility you're thinking about using.
Before and after: four re:store Fraxel non-ablative fractional treatments using a 1150 nm laser Credit: Dr T Kavic
6. Dermal Filler Injections
Cost: $1,500-$3,000
All fillers are not created equal. Only Radiesse is FDA (Food and Drug Administration) approved for hand rejuvenation. It's unique among injectable fillers in that it contains calcium hydroxylapatite (CAHA) suspended in a water based carrier gel. This compound is absorbed by skin cells which increases collagen production over time while retaining one of the best features of injectable fillers, namely immediate plumping results. As far as fillers go, it's the best choice for most patients most of the time. Peak results typically last over a year, and the long term collagen synthesis effects can mean that less filler treatments may be needed in the future.
Other injectable hyaluronic acid (HA) fillers such as Restylane can be used "off label" for hand rejuvenation, and the results are often quite good. These other plumping agents do have a significant advantage in that they can be injected into the fingers–something Radiesse isn't designed for.
7. Fat Transfer
Cost: $3,000-$5,000
Fat transfer is just what it sounds like–using minimally invasive liposuction to remove fatty tissue from one area, then injecting it into another for a plumping effect, in this case the hands. This can be done on a small scale, without the need for a fully-fledged liposuction procedure, with small amounts being harvested via small incisions and directly implanted into the backs of the hands. While the initial cost might be high, this is a semi-permanent procedure and the results can last for many years. Over time, since periodic filler injections aren't needed, this procedure often saves patients thousands in the long run. Results are indistinguishable from those of dermal fillers like Radiesse.
"When micrografting like this, many small injections are needed, as opposed to injecting one big blob," says Dr. Giraldo. "When done in this manner results are fantastic."
8. Vein Ablation and Sclerotherapy for Unwanted Veins on the Backs of the Hand
Cost: around $300-$500 per hand
Unfortunately, in many cases no amount of dermal fillers or transplanted fat can completely hide prominent veins on the backs of the hands. In situations like this, a technique known as sclerotherapy is used. Sclero uses small amounts of specialized medications injected directly into unwanted veins, which then collapse and are eventually reabsorbed. Other problem veins can develop, but sclerotherapy is permanent–once a particular vein is gone it's gone for good. However this isn't usually a first-line treatment. It's best to try fillers first. "Ending up with bony, veinless hands isn't what you want. Only when there's enough volume is sclerotherapy a good option. But that being said, it's quite effective, says Dr. Giraldo.
While there are many methods being used in modern hand rejuvenation, maintenance treatments will always be necessary. This type of skin rejuvenation is an ongoing process, and to date, there's no single "one-and-done" therapy available. Preventive measures like daily wear sunscreen also play a part in continuing success. The cost of annual filler touch-ups, maintenance peels, IPL treatments, and microderm can add up, but for most patients having onlookers guess about their true age is well worth the price.
Frequently Asked Questions: Treating Age Spots
Technically known as "solar lentigines," age spots are also referred to, unflatteringly, as liver spots. They tend to form on the hands, shoulders, arms, face, and in other areas which typically get heavy sun exposure (note: this is yet another reason to wear quality sunscreen daily). They're also many patient's primary concern regarding hand rejuvenation.
What can cause age spots?
As mentioned, UVA (ultraviolet type A) rays found in sunlight are the primary cause. And while anyone can start to develop age spots at any time, they're much more common in those over 50 years of age. Fair skinned people are also most prone, as well as patients with a history of severe sunburn or prolonged sun exposure, such as lifeguards or even those in bright, sunny climates.
How are they prevented?
Without question, daily use of a high SPF (Sun Protection Factor) sunscreen is the best preventative measure. Apply regularly to the face, neck, shoulders, arms, and hands.
What about age spots found specifically on the backs of the hands?
Fortunately, many conservative, minimally invasive approaches are available which reduce the appearance of age spots found on the hands. The following is a list of a few of the most popular–all are in wide use today based on safety and effectiveness.
The lightening agent hydroquinone is the active ingredient in many prescription bleaching creams, and is often used alongside a retinoid such as Retin-A or tretinoin. Sometimes mild steroid creams are also included. This approach is practical and popular because patients apply these medications at home.
Cryotherapy (freezing): This office-based, non-invasive treatment uses liquid nitrogen applied by a trained dermatologist to freeze away unwanted pigment.
Laser and IPL (Intense Pulsed LIght) treatments: Collectively these treatments are the gold standard in hand rejuvenation. Both laser skin resurfacing and IPL target unwanted pigment while increasing collagen production, evening out skin tone while increasing volume and elasticity.
Chemical exfoliation (peels): Layers of various acid compounds are applied by an aesthetician, which cause the top layers of dead skin to slough off. This reveals newer, more evenly toned skin. This may sound harsh, but side effects are minimal.
Microdermabrasion (microderm): This approach uses a specialized rotating tool to whisk away the dull outermost layers of the skin.Much as with chemical peels, layers of newer, healthier skin are revealed. Periodic follow up treatments are needed, but the results are visible almost at once.
Laser Hand Rejuvenation
Want to get a good idea of a person's true age? Just look at their hands. While anti-aging procedures for the face have been common for years, it's truly perplexing that hand rejuvenation procedures are just coming into their own–particularly since many popular facial treatments work great on hands as well. At any rate, if you've got bony, wrinkled hands covered in liver spots with large, prominent veins on the back, there's a good chance there's a laser treatment that can help.
And while laser hand rejuvenation is the industry gold standard, it's not your only option. This is particularly important since not every patient, especially those with dark skin, are good laser candidates. Laser-like treatments like IPL (Intense Pulsed Light) deliver laser-like results, dermal fillers excel at restoring lost volume to thinning, wrinkled skin, and specialty treatments like sclerotherapy can rid the hands of unsightly veins. Talk with your cosmetic surgeon, dermatologist, or aesthetician, and prepare to be impressed.
Any reputable doctor's office or medical spa will offer a free consultation, so be sure to take advantage of this in order to truly explore all of your options.
Can treatment with resurfacing lasers tighten loose skin on my hands?
Yes. All modern, 3rd generation lasers tighten skin and smooth out wrinkles by triggering the body's natural healing response. This increases collagen production and tightens skin and restores volume.
HAND REJUVENATION, AKA HAND ENHANCEMENT:
Even if you've taken great pains and expense to maintain a youthful, healthy looking face and body, your hands might tell a different story. Look around, and you won't fail to notice sun damaged, blotchy, veiny hands. They're covered in thinning skin and have a bony appearance, and put simply they just look… old. The good news it that the above situation is more treatable than ever before. These emerging treatments represent true hand enhancement, and can improve lost volume, uneven pigmentation, spots and blotches, and even large, prominently visible veins.
WHEN TO CONSIDER HAND REJUVENATION
If you have large, visible veins and prominent ropey tendons due to volume loss
If your skin is wrinkled and thin
If your hands have dark blotches, age spots, and sunspots
If you're unhappy with your skin's overall tone and coloration
Points to Consider:
Pros
An expanding variety of newer treatments are emerging for hand rejuvenation
Reduction of visible veins and all types of unwanted pigmentation (age spots and sunspots)
A general youthful, healthy appearance which lasts from several months to many years
Cons
A series of treatments will almost always be needed to achieve optimal results
In the short term, swelling, bruising, and resulting stiffness may temporarily limit some activities
Those with a history of poor or incomplete healing, especially those with diabetes, chronic excessive sun exposure, and long term tobacco usage (including second hand smoke) may achieve poorer results
Are you a good hand rejuvenation candidate?
Consider the appearance of your hands. Do you feel that::
Visible ropey veins and tendons appear as your hands lose overall volume
Your hands appear boney.
Your have many age and sun spots, or uneven, blotchy skin
You're unhappy with uneven skin tone and discolorations
If your general health is good, and you have realistic expectations, then hand rejuvenation can work for you. Again, reasonable expectations and knowledge of up-front and follow up costs is essential before starting a regimen. Educate yourself, then ask a lot of questions during your consultation.
Overview of Hand Rejuvenation.
HOW IS A HAND REJUVENATION PROCEDURE PERFORMED?
Regardless of what you're trying to accomplish, you've got options. Most are minimally invasive, and can correct for lost volume, thinning skin, accumulation of sun damage, lines, wrinkles, unwanted veins, and even large bluish or purplish surface veins. Only in the most severe cases, ones where the skin is extremely loose or wrinkled, will surgery be an option. Remember, it always pays to go least invasive to most-invasive for any type of cosmetic procedure, including hand rejuvenation.
Replacing Lost Volume–protruding knuckles, tendons, and veins.:
Injectable Fillers: Radiesse, Juvederm, other HA (hyaluronic acid) fillers.
Multiple injections of plumping fillers are made into into the backs of the hands and fingers.
A layering effect is used to sculpt the hands, enhancing their shape.
Fat Transplant, a.k.a Fat Grafting and Autologous Fat Transfer
Healthy, living fatty tissue is removed during a liposuctions procedure elsewhere on the body. Note: If another lipo procedure isn't being done, fat can still be harvested from other locations via small incisions for the purposes of this procedure.
Excess fluid is removed using a centrifuge, and the resulting tissue is purified prior to transplant.
This fat is then implanted via injection in multiple layers. This layering effect produces a smooth, sculpted final look free of lumps and bumps.
The lipo incisions used to harvest fatty tissues are closed using sutures.
A protective wrapping is placed over the injection sites, which remains in place for about 3 days. At this point, normal activity can proceed without restriction
Sclerotherapy
A highly safe and effective treatment for mid-sized protruding veins (> 3mm diameter).
Small hypodermic needles introduce a solution into the vein which causes it to collapse.
The treated vein blanches (turns white), and is soon absorbed back into the body.
Typically only very minimal discomfort occurs, and this procedure causes no downtime.
Skin Resurfacing Laser Treatments
The gold standard, lasers are used when treating small-mid size veins (1mm-3mm diameter).
The high-energy laser light is absorbed by any blood inside the vein being treated, which then coagulates, effectively collapsing the vein.
The vein is then reabsorbed in much the same way as with sclerotherapy.
There is very minimal downtime.
Associated therapies for minor wrinkles, fine lines, blotchy or irregular coloration, and sun damage.
Chemical exfoliation, a.k.a chemical peels.
An acidic solution is applied to both hands via sponge, gauze, or cotton swab.
Depending on your individual treatment goals, your aesthetician will decide how long to leave the solution in place.
Certain solutions must be "neutralized" or washed off at the end of a treatment.
No dressing or covering is needed post peel, and for most patients there's no downtime.
IPL (Intense Pulsed Light) Intense pulsed light (IPL)
As with any laser or light based treatment, the eyes will be protectively covered.
A specialized handpiece is used to deliver high-energy pulses of light directly to the backs of the hands and fingers.The IPL hand piece is placed directly over the treatment area and light waves are emitted.
After a series of treatments, the appearance ofsun spots, age spots, and other types of pigmented lesions are greatly reduced, and sometimes removed..
Recovery is very similar to recovery from a minor sunburn.
Skin Resurfacing Lasers
Much as with IPL and other light-based treatments, the eyes will be protectively covered.
A customized handpiece is used to deliver extremely short pulses of very high energy laser light. This intentionally creates micro-trauma.
This triggers the body's natural healing response. Collagen production increases, and skin gains volume, smoothness, and elasticity. Unwanted spots are reduced or removed entirely.
Treating very wrinkled, loose skin.
Surgical excision
Only local numbing medication is required in most cases. General anesthesia is rarely needed..
The surgeon makes an incision on the top of the hand, loose skin is removed on either side, and the skin is pulled tight and sutured together.
As with any true surgery, swelling and pain will result. In the vast majority of cases this can be managed with over the counter medication.
Vein Treatment Options:
Available options are listed below. Based on your treatment goals, your aesthetician or surgeon will develop a treatment plan. Often different therapies are combined in a multi-pronged approach for best results.
Fat transfer, a.k.a Autologous Fat Grafting: a patient's own fatty tissue is harvested, purified, and then introduced into the hands in layers. Via this layering approach, precision sculpting is possible. Protruding veins, tendons and knuckles are effectively hidden as the hand's natural volume is restored. Patients with impaired healing, as often seen in diabetes and HIV / Aids are poor candidates.
Dermal Fillers: Radiesse, Juvederm, and other volume restoring fillers are injected into the backs of the hands and fingers. Much like fat transfer, this disguises protruding veins and tendons.
IPL (Intense Pulsed Light, Chemical peels, and Skin Resurfacing Lasers: are routinely employed to treat minor wrinkles, fine lines, and unwanted pigmentation such as age spots and other forms of sun damage.
Laser Vein Treatments and Sclerotherapy: small to mid-sized veins (1mm-3mm) are directly destroyed using injected medication or high energy laser light.
Surgical skin excision : this surgical approach directly removes excess or redundant skin.
In most cases, with the exception of fat transfer and excision, multiple treatments will be necessary. In all cases, it's essential to allow proper healing time before another round of treatment begins.
WILL THERE BE ANY INCISION SCARS? HOW SEVERE WILL THEY BE?
Regarding fat transplant, only the smallest micro-incisions are needed, just enough to allow insertion of a thin suction probe. There is almost always no scarring. The incisions used to implant the fat into the hands are even smaller. In the case of surgical incision, scarring is minimal or non-existent, and any scarring that does occur is usually located on the top of the wrist and can be hidden with a watch or bracelet.
FINDING A SURGEON YOU TRUST:
Make your choice after considering the following:
Proper board certification and credentials, such as membership in the American Academy of Cosmetic Surgery, AACS
Hand rejuvenation experience–be sure to ask how many procedures he or she has performed
Online reviews and personal recommendations
Your overall level of comfort, or "gut feeling"
After selection, the next step is a face to face, in depth consultation, including patient expectations, a review of potential risks and benefits, and a full discussion of pricing. See below for a more in-depth look.
Your initial consultation appointment
Keep in mind that this initial consult is one of the most important parts of the process you're about to undertake. A full examination must take place, and all questions must be answered to your satisfaction. Your expectations will be weighed against what your surgeon believes is possible, and the price of the procedure and any associated costs must be put in writing. The surgeon is also ethically required to discuss any possible alternative treatment options with you at this time.
You'll need to come prepared to discuss your medical history in detail. Topics include:
Prior procedures
Medical conditions, both past and current
Medications being taken
Drug allergies
Your Hand Vein Treatment Plan
This will depend on your individual treatment goals, the physical state of your hands, and the surgeon's skill level and expertise. When developing a treatment plan, your surgeon will make recommendations and share information with you, which will include:
Type of procedure to be performed (or procedures–multiple procedures are commonly used together)
Expected outcomes
Full pricing disclosure, including the costs of anticipated follow-up treatments
Possible risks and expected downtime
Anesthesia options, usually local but sometimes general for complex procedures
What you need to do to prepare
A full discussion of after-care
It's essential that you look at before and after photos of similar procedures with you surgeon. This is an essential part of the process, and helps to shape realistic expectation.
QUESTIONS FOR YOUR PLASTIC OR COSMETIC SURGEON:
A partial list of FAQs (Frequently Asked Questions). This will help you:
Make an intelligent, informed decision based on realistic expectations
Confirm that you've chosen the right surgeon for the procedure
Completely understand risks versus benefits
Gain a full understanding of other treatments which may work as well (or better)
It's vitally important that you take an active role in this process. Bring a written list of questions with you to your initial consultation.
What's your impression of my situation? Am I a good candidate for minimally invasive treatments of fully-fledged surgery?
Do I have reasonable, realistic expectations? In your experience, is my desired final look achievable?
Can we review before and after pictures of similar procedures you've done in the past?
Will there be scarring? If the answer is yes, how severe is this likely to be, and where will any potential scars be located?
Will local or general anesthesia be used? Note: only local is necessary in the majority of cases.
What are the costs, both of the procedure itself and any likely follow up treatments, medications, and office visits?
What can I do to ensure the best results?
What kind of recovery is typical in cases like mine? How much downtime can I expect, and when can I resume activity without restriction?
What are the potential risks associated with procedures similar to what you've recommended?
If complications occur, how are they managed?
If the expectations we agreed upon aren't achieved, what are my options moving forward?
Procedure Preparation:
HOW DO I PREPARE FOR A HAND REJUVENATION PROCEDURE?
Your surgeon's office will give you pre-operative instructions, field any questions you have, take a detailed medical history, and give you a thorough physical exam. Remember, perhaps the most important part of the entire process is determining if the procedure you want is right in your individual case. If you're going to receive a chemical peel or laser skin resurfacing, you might need pre-procedure topical creams or lotions, and you'll absolutely have to stay out of the sun for the weeks prior to your office visit. In the case of surgery, pre-op meds might be prescribed.
Here's a partial list of what you'll need to do::
Cease smoking or other tobacco use for six weeks or longer before your procedure. This will ensure proper healing. Better yet, stop for good.
Take no over the counter anti-inflammatory drugs such as ibuprofen or advil, as these thin the blood & can increase bleeding.
Limit sun exposure, especially without wearing sun protection–a period of two weeks is advisable. This is a essential for success, no matter what procedure or treatment you're considering, it won't work as well as it could if active sun damage is present.
Hydrate. Proper water intake is necessary for proper healing post-procedure, and for good health in general.
Commonly performed hand rejuvenation treatments are most often performed as in-office outpatient procedures. For more invasive surgery, you'll need to arrange for a driver, and it's best to stay with someone for the first couple nights after your procedure.
On the day of surgery, what type of things should I expect?
Comfort medications such as anesthetics and analgesics (pain meds) are usually administered before the procedure.
Usually only local anesthetics are needed, but oral or even IV sedation may be required. This will depend on what you're having done and your surgeon's judgement.
In the case of general anesthesia or high level sedation, your vital functions such as heart rate, blood pressure, and blood oxygen levels will be monitored.
Your surgeon won't deviate from your predetermined plan once you've started treatment. This is why good planning is essential.
Post procedure, you'll spend some time being monitored in a recovery room before being discharged. Any incisions will be dressed with sterile wrappings, which are to be left in place for three or four days.
In the vast majority of cases you'll be released to go home after a brief period of observation. In general, these aren't invasive, involved procedures.
Recovery and After Care:
Well before your actual procedure, you and your surgeon will talk about all aspects of you after care. You'll discuss things like downtime, any restrictions you'll have to follow in the short term, and the anticipated time it will take for a full recovery. Once again, this is a time to ask any and all questions you may have. Immediately after your procedure or treatment and in the days to come, you'll be monitored for any complications.
Immediately post-procedure (short term)
It's likely that your hands will have some bruising and stiffness. If you've had fat harvested for a fat grafting procedure, any incisions made will also likely have the bruising and soreness associated with any healing wound. Most often, ice and over the counter pain meds will suffice to manage these symptoms. Avoiding direct sunlight is also essential.
You should expect to have the full support of your surgeon's office after your procedure. Don't hesitate to call in with any questions or concerns.
Post-procedure (mid-term)
It's your responsibility to follow any after care instructions to the letter. Some commonly prescribed after care involves wearing compression garments, taking a course of antibiotics, and firmly setting the time frames for resuming normal activities. Healing times vary from patient to patient, so the after care instructions given to you by your surgeon's office are tailored specifically to you and must be followed.
The initial two weeks
Any redness, bruising, or stiffness will begin to resolve.
You'll begin to see your final results shaping up. Expect to be pleasantly surprised!
Weeks two to eight
Some residual redness may remain, especially at incision sites
Your skin's tone will return to its new, improved normal.
Any additional recommended procedures will usually take place during this period. For peak results, combined therapies are the best course of action for most patients.
How long can I expect my results to last?
The dermal filler Radiesse is usually the best choice for hand rejuvenation, and typically lasts over one year. Other fillers can persist for many months, up to about one year. Fat transplant procedures will last the longest, most often several years, which is the reason why this type of procedure can cost much less in the long term. Those with a medical history including impaired healing, as is seen in some diabetics, results are still typically excellent, yet shorter lasting. Also note that excessive sun exposure will almost guarantee shorter lived results, as will smoking or other tobacco usage and poor hydration.
The importance of limiting sun exposure can't be overstated. Always use proper sun protection, including sunscreen of at least SPF (Sun Protection Factor) 30.
Be sure to maintain a relationship with your surgeon's office, and be sure to make all scheduled follow up appointments. Again, always contact your surgeon with any concerns immediately to prevent any small problems from progressing into larger ones
The cost of any procedures you're having will vary from surgeon to surgeon, as well as by geographic region. Do your research before committing to a procedure to ensure you get the best value for your money.
Also remember that the cost of the actual procedure most often isn't the final cost of your hand rejuvenation process. There are likely future costs to cover follow up treatments, appointments, and the price of any prescription drugs you might need. Once again it's important to do your research as these miscellaneous costs can add up quickly.
Be aware that these types of procedures are elective: insurance isn't likely to pick up any of the costs associated with the process. Forewarned is forearmed.
Limitations and Risks
In all likelihood, your hand rejuvenation procedure will go smoothly. Great outcomes are usually achieved, and significant complications are extremely rare. As mentioned earlier, a key feature of the consultation process is determining if you're a good, low risk candidate. Any possible issues will be discussed at this time, well before the actual procedure.
However, any procedure which breaks the skin includes some degree of risk. Here's a short list of unlikely but possible complications.
Negative reaction to anesthesia
Hematoma formation (blood accumulation beneath the skin which may need to be removed)
Bleeding and possible infection
Sensory changes, i.e. changes in the sense of touch
Scar formation
Allergic reactions
Unintentional damage to surrounding tissues
Results which didn't live up to patient expectations, and which may require additional procedures
Impaired healing due to systemic diseases like diabetes, or excessive stretching or tension
Unexpected blotchiness or color change, which rarely occur after chemical peels
The reabsorption of implanted fat
All of these risks can be minimized by following the suggestions and directions given to you by your surgeon's office, both before and after your surgery or treatments.
After significant trauma to a fingernail or toenail, growth can become impaired, and the appearance of the nail is often undesirable. Are there options for restoring the nail's natural appearance?
Yes. It's now possible to graft nail plate tissue (the living, growing part of the nail) from a healthy nail onto that of a damaged nail. Surgeons with experience in cosmetic surgery of the hand are more likely to attempt this procedure.
Hand rejuvenation using a patient's own fatty tissues is now possible. A patient's own harvested fat is the best filler available, outperforming dermal fillers such as Juvederm and even Radiesse, which is FDA approved for hand rejuvenation. This type of procedure is known as fat transfer, fat grafting, or fat transplant. The body will never reject or react negatively to its own tissue, and the results last for many years. The results are semi-permanent and last for many years, and in the long run save patients thousands of dollars which they would have spent on dermal fillers.
At your initial consultation, your surgeon will answer any questions you may have, take a medical history, and perform a thorough exam of both the transplant and donor sites. Based on his or her findings, a treatment plan addressing your individual needs can be developed.
QUICK FACTS
LENGTH OF PROCEDURE
About 1-3 hour
ANESTHETIC USED
Local anesthesia is most commonly used, intravenous sedation or general anesthesia are rarely necessary
INPATIENT OR OUTPATIENT
Outpatient in the majority of cases
COMPLICATIONS AND SIDE EFFECTS
Minimal, transient bruising, redness, swelling, tightness, and mild-moderate pain.
ASSOCIATED RISKS
Mild-moderate pain (especially at injection / incision sites), bleeding, infection, and asymmetrical results which fail to live up to patient expectations. Very rarely damage to sensory nerves can occur.
RECOVERY
Patients may return to work in less than 1 week, return to light exercise during weeks 2-3, and proceed to strenuous activity from weeks 4-8. At this point full activity without restriction can resume.
LENGTH OF TIME RESULTS LAST
Multiple years.
HAND REJUVENATION SURGERY
HAND REJUVENATION PROCEDURES
PLASTIC SURGERY FOR WRINKLED HANDS
COSMETIC PROCEDURES FOR HANDS
HAND RESURFACING
 HAND REJUVENATION
HEAVENLY HANDS REJUVENATION
MURAD REJUVENATING AHA HAND CREAM REVIEW
 LASER LED LIGHT THERAPY HAIR REGROWTH REJUVENATION
HAND REJUVENATION PROCEDURES
BEST HAND REJUVENATION CREAM
IGROW HANDS FREE HAIR REJUVENATOR
MURAD REJUVENATING AHA HAND CREAM REVIEW
HOW TO REJUVENATE YOUR HANDS
HAND REJUVENATION
HEAVENLY HANDS REJUVENATION
MURAD REJUVENATING AHA HAND CREAM REVIEW
 LASER LED LIGHT THERAPY HAIR REGROWTH REJUVENATION
HAND REJUVENATION PROCEDURES
HOW TO REJUVENATE HANDS