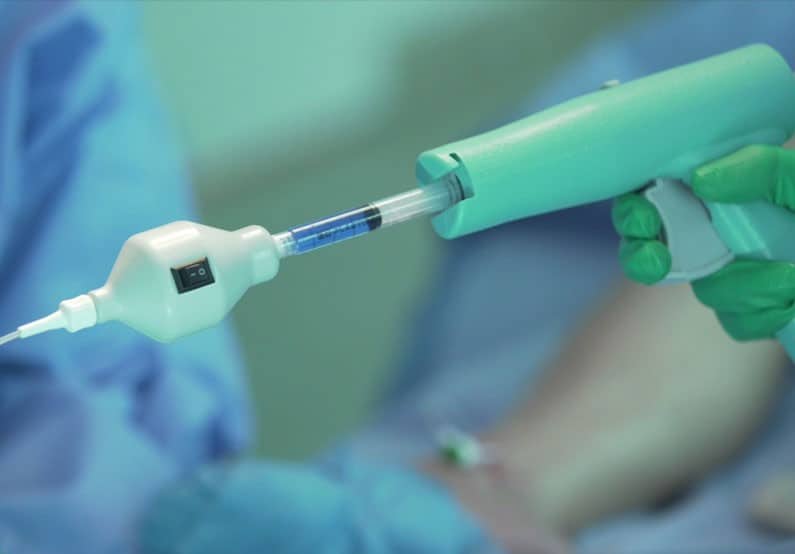 How does VenaSeal work?
The medical grade glue is placed into the vein through a small catheter and rapidly seal the vein shut. 
Is loss of the vein a problem?
No, blood will be circulated to other healthy veins. 
Am I at risk from the VenaSeal medical adhesive?
No, the glue has been extensively tested in other areas of medicine for decades. It is shown to be safe and effective without harmful effects to the body. 
How successful is the VenaSeal procedure?
Success rates between 94 and 98.9% have been reported with excellent long-term results.
What are the advantages for VenaSeal?
Advantages
Minimal discomfort, no injection along the course of the vein.

Compression stockings not needed

Minimal time off following procedure

No hospital admission or general anaesthesia

No chance of nerve damage or injury
What should you do before VenaSeal?
Do not stop medications prior to treatment unless advised.

Do not shave your legs

Do not use moisturizer 

Wear slacks or pants and comfortable shoes

Pre-medications are not necessary unless you have a low pain threshold
What happens after the VenaSeal Procedure?
Your practitioner will discuss all important treatment instructions and provide documents for reference.

Walking for 10-15 minutes per day is advised.

Maintain normal daytime activities but avoid standing still for long periods of time.

Continue with normal exercise activities within 48 hours.

You will be asked to avoid long haul flights (>4 hours of continuous travel) for at least 3-4 weeks after the treatment. If travel is unavoidable, then you will be protected from deep vein thrombosis with subcutaneous low molecular weight Heparin (aka Clexane) during your travel.

An ultrasound check of the treated veins will occur 2 weeks after the treatment. This is to assess the outcome of the treatment and also to exclude the very low chance of deep vein occlusion.

You will be directed to go for an immediate 10 minute walk before you drive home. As long as you are able to walk unaided without restriction, you are allowed to drive home.
Call 724-987-3220 for an appointment today!