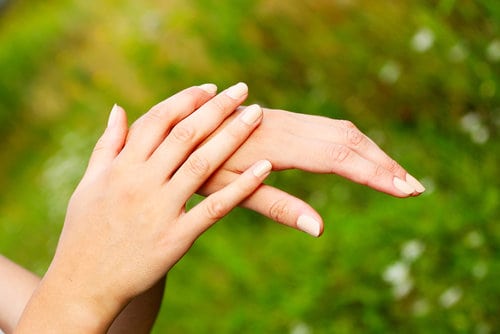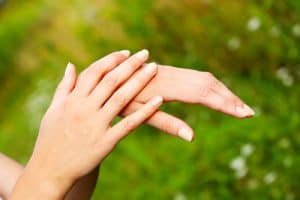 Hand Rejuvenation Pittsburgh PA is done best at our Vein Center! AGING IS A PROCESS WHICH AFFECTS THE ENTIRE BODY, NOT JUST THE FACE. THIS MOST CERTAINLY INCLUDES THE HANDS, WHICH ARE AN EXTREMELY VISIBLE AND OFTEN UNDER-TREATED AREA IN TERMS OF SKIN REJUVENATION. IF YOU'RE SPENDING THE TIME AND MONEY TO KEEP YOUR FACE LOOKING IT'S BEST, WHY IGNORE YOUR HANDS?
MANY OF THE IDENTICAL SIGNS OF AGING SEEN IN THE FACE AFFECT THE HANDS AS WELL. BOTH AREAS ARE PRONE TO LOSS OF VOLUME, WRINKLING, AND UNWANTED PIGMENTATION SUCH AS AGE SPOTS AND SUNSPOTS. BOTH AREAS ARE ALSO VERY DIFFICULT TO HIDE. WHEN MEETING SOMEONE FOR THE FIRST TIME WE USUALLY SHAKE HANDS, AND UNLESS WE KEEP OUR HANDS FIRMLY IN OUR POCKETS (IF YOU HAVE ANY), SOONER OR LATER THEY'LL NOTICE YOUR HANDS.
As Skin Ages…
AS HINTED AT, AS THE FACE GOES, SO GOES THE HANDS. SKIN VISIBLY THINS, VOLUME LOSS GIVES A GAUNT IMPRESSION, AND UNWANTED PIGMENT–USUALLY AGE SPOTS RESULTING FROM SUN DAMAGE–BEGIN TO APPEAR. THE END RESULT IS HANDS YOU CERTAINLY WON'T WANT TO SHOW OFF: THIN, BONY, VEINY, AND WRINKLED WITH PROMINENT KNUCKLES AND TENDONS.
HOWEVER NOT ALL HANDS AGE EQUALLY. THOSE OF US WITH FAIRER SKIN, A.K.A FITZPATRICK SKIN TYPES I OR II, TYPICALLY FARE FAR WORSE. THEY'RE MORE PRONE TO DEVELOPING DARK, BLOTCHY PATCHES OF PIGMENTATION, AND VEINS USUALLY APPEAR MORE PROMINENT DUE TO SIMPLE CONTRAST. AFTER ALL, BLUISH OR PURPLE VEINS WILL ALWAYS BE MORE VISIBLE WHEN SET AGAINST LIGHTER SKIN.
Sun Damage to Hands
IT'S NO COINCIDENCE THAT FAIR SKINNED PATIENTS ARE MORE PRONE TO SUN DAMAGE. THE UVA (ULTRAVIOLET TYPE A) RAYS FOUND IN BRIGHT SUNLIGHT PENETRATE FAIR SKIN EASILY AND DAMAGE MELANOCYTES, THE CELLS WHICH PRODUCE PIGMENT. GIVEN ENOUGH SUN DAMAGE OVER A LONG ENOUGH TIME, THEY BEGIN TO PRODUCE IN UNEVEN PATTERNS, RESULTING IN THE ALL TO COMMON SUN AND AGE SPOTS.
Chemical Exfoliation Hands
A VERY VIABLE TREATMENT THAT WORKS ON ALL SKIN TYPES IS CHEMICAL EXFOLIATION, BETTER KNOWN AS CHEMICAL PEELS. A COMPOUND KNOWN AS TCA (TRICHLOROACETIC ACID) IS APPLIED IN VARIOUS STRENGTHS, WHICH CAUSES THE VERY TOP LAYERS OF THE SKIN WHICH CONTAIN NEARLY ALL OF THE UNWANTED PIGMENT FOUND IN AGE-RELATED PIGMENT DEPOSITS TO SLOUGH OFF. SKIN THEN APPEARS VISIBLY MORE EVEN IN TONE ALMOST IMMEDIATELY, WITH MINIMAL SIDE EFFECTS.
Laser Treatments Hands
FAR AND AWAY, LASER TREATMENTS ARE THE BEST TREATMENT FOR MOST PATIENTS. THEN, DEPENDING ON THE TYPE OF DAMAGE THAT'S BEING CORRECTED FOR, IPL (INTENSE PULSED LIGHT) OR A CHEMICAL PEEL MAY BE NEEDED.
Dermal Fillers Hands
NOW WE'LL DEAL WITH VOLUME. WHILE ALL DERMAL FILLERS WORK ON THE FACE, ONLY A FEW SHOULD BE USED ON THE HANDS, WITH RADIESSE LEADING THE PACK. THIS HUGELY POPULAR PLUMPING AGENT IS THE ONLY FDA APPROVED INJECTABLE TREATMENT FOR HAND REJUVENATION PITTSBURGH PA. IT GETS CONSISTENTLY GOOD RESULTS AT REVERSING THE GAUNT, BONY LOOK COMMONLY FOUND IN OLDER HANDS. RESULTS ARE INSTANT, AND USUALLY ONLY MILD PAIN AND SWELLING OCCUR WHICH CAN BE EASILY DEALT WITH BY OVER THE COUNTER DRUGS LIKE IBUPROFEN AND SELDOM LAST MORE THAN A FEW DAYS.
What kind of results can I expect from hand rejuvenation treatments?
The specific results of hand rejuvenation treatments can vary depending on the techniques used and individual factors. However, here are some general expectations:
Improved skin texture:
Hand rejuvenation treatments can help improve the texture of the skin on your hands. They can reduce the appearance of fine lines, wrinkles, and crepey skin, making your hands look smoother and more youthful.
Increased volume:
Loss of volume in the hands is a common sign of aging. Hand rejuvenation procedures such as dermal filler injections can restore volume to the hands, making them appear plumper and more youthful.
Reduction of age spots:
Age spots or brown spots caused by sun damage can be addressed with certain hand rejuvenation treatments. Laser therapy, chemical peels, or topical treatments can help fade these spots, resulting in a more even skin tone.
Enhanced skin elasticity:
Some hand rejuvenation treatments, such as laser resurfacing or radiofrequency therapy, can stimulate collagen production in the skin. This can improve the elasticity and firmness of the skin on your hands.
Younger-looking hands:
Overall, the goal of hand rejuvenation is to achieve a more youthful appearance for your hands. The combination of smoother skin, increased volume, reduced age spots, and improved skin quality can result in hands that look rejuvenated and more vibrant.
What factors can affect the longevity of hand rejuvenation results?
Several factors can influence the longevity of hand rejuvenation results. These factors include:
Treatment technique:
The specific hand rejuvenation technique used can impact how long the results last. For example, dermal filler injections typically provide temporary results that can last several months to a year, depending on the type of filler used. Laser treatments or chemical peels may require multiple sessions for optimal results and can have longer-lasting effects.